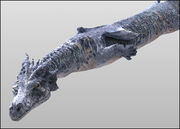 Write the first paragraph of your article here.
Section heading
Edit
The Marine Dragon evolved from the Prehistoric Dragon by taking to the water and took on more aquatic features. The dragon had a blue coloration and developed a long slender body with its wings transformed fins while the tail became a rudder. Thriving in bodies of water such as the seas living off of fish it entered through estuaries where it returned ashore onto land and became the Forest Dragon.
Section heading
Edit
Stories told about the Sea Serpent could possibly have been about Marine Dragons.
Ad blocker interference detected!
Wikia is a free-to-use site that makes money from advertising. We have a modified experience for viewers using ad blockers

Wikia is not accessible if you've made further modifications. Remove the custom ad blocker rule(s) and the page will load as expected.